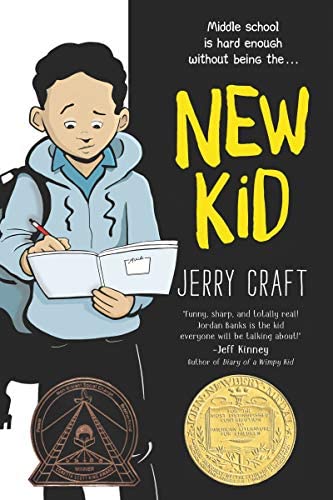 Rating: ⭐⭐⭐⭐⭐
Title: New Kid
Author: Jerry Craft
Format: Graphic Novel
Review:
How do you handle life when you are the new kid at the Fancy Riverdale Academy Day School (or RAD as the students call it) – an expensive private middle school your parents make you attend? In this engaging graphic novel, Jordan Banks, age 12, feels alone and lost every day of his life – like he is falling from the sky without a parachute. He loves to draw and would rather be attending an art school, but his mom disagrees.
Many of the students at RAD are very rich; there is not a lot of diversity. Almost everyone is white, including Jordan's guide to the show him around the school, Liam Landers. Then he meets one of the few fellow African American students, who the kids call Maury-O because it rhymes with Oreo – the kids say he is white on the inside, black on the outside. Ms. Rawle is his homeroom teacher and when she has the new students introduce themselves, he finds out Andy Petersen is the starting quarterback, Drew Ellis is another Afro-American student who loves math, and Collin plays lacrosse, baseball, football and soccer. Finally, Alexandra introduces herself and her puppet, Mr. Hunny Bunny. Andrew is helpful and shows Jordan the way to Pre-Algebra with Mr. Garner. But it's hard to find his way to the other classes and after Jordan's first day of school, he feels overwhelmed; the school is gigantic and instead of the 25 kids in his class at his old school there are a hundred kids at his level at RAD.
Check out Jordan's double page comic-like artwork, "The Dude Pyramid; A Guide to Cafeteria Hierarchy" – spoofing the seating arrangement in the cafeteria. While the seniors (wolves) get the window seats and the Sophomores (owls) get to sit near the food, the seventh and eighth graders (Toenail Fungus), which includes Jordan, get to sit in front of the drafty doorway next to the trash cans. The atmosphere of school and his neighborhood are so different so on the bus ride home from school, Jordan acts like a chameleon. When he rides past his neighborhood of Washington Heights, he wears a hood and looks tough, but by the time he reaches RAD he takes off the hood and his shades and tries not to look "cool". It is exhausting. If you are black, the teachers often call you by the name of another African American student and most kids stereotype him – typecasting him as part of a single parent household.
At school students either must play a sport or be in the school's musical production of Hamilton so Jordan picks soccer not that he knows much about the sport, with their first game against Francis Prep. Starting as a forward, he likes soccer more than he thought he would; he even scores the first goal his team has scored in seven years though they lose the game 11-1.
Drew, also a black student, has been there two months and kids don't really talk to him-except for high fives and "good games" since he is a star football player. The students always look at him when the class is studying slavery or civil rights or mention financial aid. His grandmother who lives with him, says for him to succeed he must be the "fly in the buttermilk". Just to kid, he tells Jordan "Later, Dawg! And his teacher wants him to apologize but he is not sorry. At his mom's work, out of 1,200 employees only 48 are African American. His mom tells him, as a black person, it is important to learn the rules; you must know how to play the game.
Jordan will make do just practicing in his sketchbook until ninth grade when he can join the School of Art, Music and Mime if he can convince his mom to let him go. Later at a Chinese restaurant with his grandfather, he tells his grandpa all about the kids at RAD and admits that he even likes his guide Liam who is white – "He's cool"! During the Thanksgiving break so many of the returning students from rich families, had gone skiing at faraway locals, even Alaska. But Jordan stayed home enjoying his family's tasty Thanksgiving meal of turkey, collard greens, string beans, candied yams and marshmallows, corn bread and mac and cheese.
Secret Santa's is the holiday event at school. What does it mean when Maury's Secret Santa gives him basketball cookies, a gift certificate to KFC and a chocolate Santa? Is it because he is black? At the book fair the teacher suggests Jordan and Maury read about someone who is growing up in poverty without a father. But Maury tells her his father is the CEO of a Fortune 500 company. Jordan visits with his friend from the neighborhood, Kirk. While a kid in Kirk's neighborhood school brings a gun to school, at RAD a kid gets in trouble for having a snicker bar in his locker since it is a nut-free school. Jordan's family celebrates Kwanzaa and after the holiday break Jordan must again hear about all the faraway places his classmates have visited.
See why this book by author/illustrator Jerry Craft won the Newbury Award in this school story that highlights the year of an African American student and find out how Jordan learns that the other students have stories of their own; life is not easy for anyone.
Reviewed By: Sandy